Profile

This journal should be viewed with discretion.
Free Account
Created on 2009-04-20 08:01:09 (#102019), last updated 2017-10-14 (6 days ago)
2,126 comments received, 135 comments posted
2,105 Journal Entries, 874 Tags, 0 Memories, 171 Icons

About

Mini Bio
Hope guides me. It is what gets me through the day and especially the night. The hope that after you're gone from my sight it will not be the last time I look upon you. -- Kate, A Knight's Tale




Is Love banner made by pseudomonas
BeccaDG is hopeful romantic Love.
I'm Becca, Dragon Goddess, or Lady Dragon if you prefer, a 4,000 year old fire breathing dragon with glittering golden scales and eyes like fire opals. Okay, maybe not, but that's what you're getting here.
Well, I'll give you this...
My Favorite Fandoms
(These are
just
my
most
favorite. I have other fandoms. See my tags and interests. Heck, see my schools.)
Oceans of Time
(an original and multifandom shared universe I rp in with some friends)
Highlander
(including the books, cartoon and anime, but not the movies
Highlander: Endgame
or
Highlander: The Source
)
Doctor Who/Torchwood
(primarily the classic
Doctor Who
series, and the spin-off series
Torchwood
--including the books and radio plays closely related to
Torchwood: Children of Earth
, but nothing related to
Torchwood: Miracle Day
)
Anita Blake
(I stopped reading the series at
Incubus Dreams
)
Profiler
(first, second and fourth season, I prefer not to dwell on third)
Primeval
(the first two series)
And these...
Neva
on me, "You are very passionate and loyal to your fannish loves, but also gracious to those who don't share your opinions on particular characters and stories. (Sadly, this is not true of everybody in fandom.)"
Donna
on casting Mary Lynn Rajskub to play me in the story of her life, "The type of character she usually plays is a bit quirky, but definitely knows her shit and isn't afraid to say it, no matter who the hell is in the room. I see her as the perfect actress to play a woman who would say, 'Hey, I want a Romana I banner on my DW quiz result and if they won't give it to me, I'll make it myself.' :) And it's easy to believe she'd be someone into the things you are."
Fleta
on picking one word to describe me, "Depends on if you ask me or my muses. Mine was : diversified :) I almost came up with the mayhem one, but it's not entirely accurate."
My boys are all grown up.






Jack, Yan, Darien, Aeryn and Stephen
I have claimed at...
Stalk a Bishie
: Miroku, Chiba Mamoru, Tamahome
Bishie Love
: Tamahome, Prince Endymion, Miroku, Hotohori, Hazama Itsuru


Is Love banner made by kajivar
John Grant is handcuffed Love.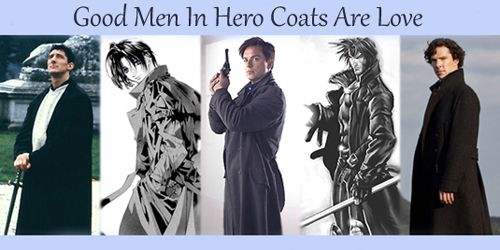 Are Love banner made by beccadg

Connect
8 man after,
a knight's tale
,
absolute boyfriend
,
abvh
,
aeryn
,
alaric morgan
,
alberich
,
angel
,
anime
,
asato tsuzuki
,
asher
,
babylon 5
,
bedlam's bard
,
billy joel
,
bishonen
,
books
,
bruce springsteen
,
btvs
,
captain blood
,
captain jack harkness
,
cartoons
,
ceirdwyn
,
ceres celestial legend
,
charlaine harris
,
chelsea quinn yarbro
,
chiba mamoru
,
daniel
,
darien
, daryun,
detectives
,
disney
,
doctor who
,
doyle
,
dragons
,
edgar figaro
,
elves
,
emma bull
,
eric northman
,
errol flynn
,
fan fiction
, fantasy noir,
film noir
,
final fantasy
,
frost
,
fushigi yugi
,
gambit
,
gareth david-lloyd
,
grayson
,
gwen
,
han solo
,
harry dresden
, hazama itsuru,
henry fitzroy
,
heroic legend of arslan
,
highlander
,
history
,
horatio hornblower
,
hotohori
,
humphrey bogart
,
ianto jones
,
inuyasha
,
ioan gruffudd
, jack fleming,
jazz
,
jean-claude
,
jim butcher
,
joanne bertin
,
john barrowman
,
john grant
,
julian mcmahon
,
katherine kurtz
,
kerowyn
,
kevin spacey
,
kilik
,
l.a. confidential
, linden rathan,
literature
, madmartigan,
magneto
,
manga
,
mercedes lackey
,
merry gentry
,
methos
,
michael carpenter
,
michael garibaldi
,
miroku
,
movies
,
mystery
, narsus, night tenjo, nightwalker midnight detective, oceans of time,
original fiction
,
p.n. elrod
,
paul bettany
,
peter wingfield
,
philip marlowe
,
pirates
,
poetry
,
prince eric
,
princess leia
,
profiler
,
raphael sorel
,
reading
,
rhys
,
richard sharpe
,
richard zeeman
,
riley finn
,
robert frost
,
rohannan melior
,
romance
,
rosemary edghill
,
sailor moon
,
saint germain
,
sango
,
science fiction
,
sean bean
,
seth
,
seto kaiba
,
shel silverstein
, shido tatsuhiko,
shojo
,
sidhe
,
soul calibur
,
squall leonhart
,
star wars
,
sting
,
storm
,
tamahome
,
tanya huff
, terenil,
the princess bride
,
thomas raith
,
tom baker
,
torchwood
,
toya
,
urban fantasy
,
val kilmer
,
valdemar
,
vampires
,
video games
,
war for the oaks
,
will turner
,
willow
,
world of darkness
,
writing
,
x-men
,
yami no matsuei
,
yu-gi-oh
,
yuu watase

People
[View Entries]

Communities
[View entries]

Member Of (7):

Subscriptions (10):

Administrator Of (0)

Feeds
[View Entries]

Subscriptions (0)

Linking
To link to this user, copy this code:
On Dreamwidth:
Elsewhere: